Davenport Landscape will transform your empty space outdoors into a comfortable family area.
French drains
Paver patios and walkways
Custom lighting
Rockstack walls
Retainers
We have an incredible variety of building materials available to customize your entire space to look and feel exactly how you imagine. From a custom concrete stamped floor to a fully functioning kitchen, your patio will look amazing. We work around your existing features to enhance your property to your specifications.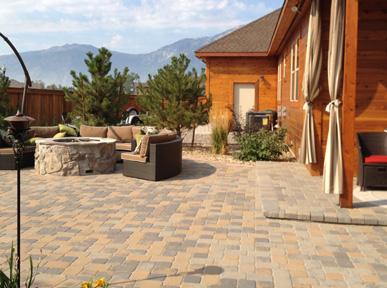 In our Western Climate, the environment and water management are two key factors when considering your landscaping. It can be very difficult and costly to maintain shrubs and plants in our climate. Our years of expertise and experience will ensure your design is eco-friendly and looks beautiful. We will work together to educate you on recommend plants and trees that grow well and flourish in our area with very little maintenance. Using our huge selection of rock, tile, block, brick, stone and concrete, we will transform your landscaping into a work of art!

Landscape lighting is the perfect way to enhance the outdoor atmosphere in the evening. Our experts work directly with you to create the perfect lighting for your deck, walkways, gardens and landscaping. We feature a huge selection of LED lighting options and unique fixtures that add character, sophistication and safety to your home. We specialize in adding illumination to all areas of the exterior of your home or business